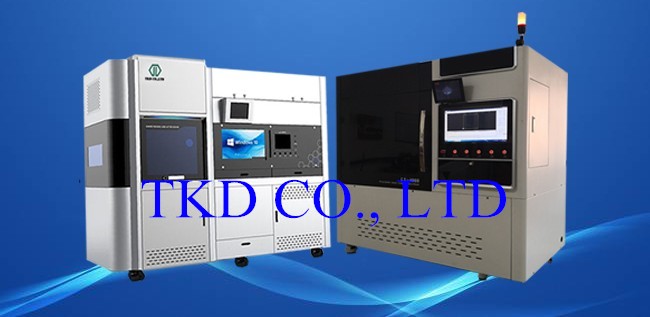 The lasers cut straight through all of the grains in the PCD composition, producing a very sharp cutting edge.
The use of ultra-hard materials such as polycrystalline diamond (PCD) for cutting tools is becoming increasingly common when cutting very abrasive materials, such as graphite, copper, bronze, brass and aluminum alloys, due to its wear resistance compared to tungsten carbide cutting tools. This is important when manufacturing intricate molds, as the machining processes involved are susceptible to chipping on the tool's cutting edge, which affects cutter durability and the end product's surface finish.

Currently, the majority of PCD cutting tools are produced by using either a diamond grinding wheel or wire EDM, which are the same processes used to manufacture tungsten carbide cutting tools. However, PCD is a synthetic product produced by sintering selected diamond particles and a metal matrix, which causes the diamond grinding wheels and wire EDM to go around certain particles of the PCD composition rather than cutting straight through them. This causes a rough grainy edge and microchipping at the insert's cutting edge, ultimately resulting in tool failure and an inferior surface finish on the finished product.

An alternative is laser cutting, which removes the PCD material in very small increments using a highly concentrated, precise beam of light. This laser beam is powerful enough to cut straight through all of the grains in the PCD composition, producing a very sharp cutting edge. Here are four advantages of laser-cut PCD cutting tools:
Chipbreaker ablation. Normally, chipbreakers have to be formed during the carbide-pressing process by buying a special die with the chipbreaker form. The cost is defrayed only when a large quantity of inserts are pressed with this form. With the laser, you can cut the special chipbreaker of virtually any design in each individal insert.
Reduced microchipping. The sharp cutting edge of laser-cut PCD tools reduces microchipping that occurs with a diamond grinding wheel or wire EDM. The slight roughness on the cutting edge will cause surrounding pieces in the carbide composition to break off quickly (microchipping), resulting in larger chipping, cutting-edge failure and imperfections on the part's finish. Laser-cut PCD tools allow the end user to cut longer without having to stop to change a chipped or worn-out insert. This adds up to savings on tool cost and reduces cycle times.
Smooth surface finish. When you have a smooth cutting edge on the cutting tool, you will get a smoother finish on the surface of the material you are cutting. It's the same principle as with a knife. A dull knife will cut, but not nearly as cleanly as a scalpel. A smoother surface on a cut part not only looks better, but also fits better with mating parts.
Complicated forms and tight tolerances. The highly concentrated beam of light used in the laser-cutting process offers precision that it is capable of producing intricate forms required by customers. Tolerances as tight as 0.0001 inch on critical dimensions and a small radius on sharp inside corners are possible. All diamond wheels have a radius on their edges, making it impossible to leave a sharp corner when cutting an inside corner on a complicated form. The sharpest you can achieve is the radius on the edge of the diamond wheel. With wire EDM, you can only go as sharp as the diameter of the wire used to cut in this type of process.